RICHARD B. BURGESS
Past Senior Grand Warden, Grand Lodge of Massachusetts
Grand Chancellor & Assistant to the SGC of AASR, NMJ, USA
Honorary Director, MASONIC FORUM Magazine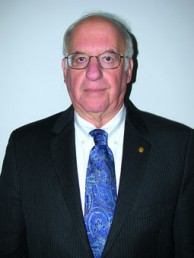 What an affirming and confirming title. We all know very well that our gentle Craft ironically possesses much power and with that power of Brotherhood all things are indeed possible. I believe that most of us reading this article realize that the Masonic fraternity is a powerful organization composed of men who devote large amounts of their time and energy to its rituals, and just as importantly, to its good works in the community, state, nation and the world.
The positive nature of our dedication to making good men better, to making whatever society we find ourselves in better, is a phenomenon which we witness on a daily basis. Masonry is dedicated to making all things possible. Time does not permit a listing of every Masonic-based organization and the charity or charities it endorses. The symbolic lodges are charged by their Grand Lodges to donate time and money to support local charities, our Scottish Rite in the Northern Masonic Jurisdiction dedicates large amount of money from generous donations from its members to our own charities. The York Rite Bodies as well as the Shrine are famous for the constant support of those in need. If we as Freemasons do not take care of our own Brothers in distress and their families, then why, we may ask, do we exist as a fraternity?
Masons are always ready to help out not only the widows of the Lodge but all Brothers and families in need. The words of Paul's Letter to the Corinthians, Chapter 13, verse 13 permeate the center of Masonic Life…. "And now abideth faith, hope and charity, these three; but the greatest of these is charity". Charity = Love!
In an address entitled FAITH, HOPE, CHARITY delivered in 1933, our beloved and most gifted Brother Ill. Raymond C. Ellis, Past Grand Master of New York, Scottish Rite Deputy for New York and 25th recipient of the prestigious Gourgas Medal for distinguished service to Freemasonry, humanity or country, said about charity: "I am not thinking of charity primarily in a material sense, because real Charity is a matter of the heart, and it is only when we combine the doing of the act with the spirit of the act that Charity exists at all. Sometimes I think that one of the bright sides of the troubles through which we have passed has been the kindly and charitable feeling that has been developed in people for others in distress. Our fraternity, all fraternities, our city, our state, our country have done heroic work in the helping of those in need, the only reward of which was the doing of the act itself… After all, however, we reflect what we really are in spirit and no individual or organization can practice real Charity without developing a reciprocal spirit on the part of those helped." Where have we all heard, "What you give away you keep; and what you keep you lose."
A newspaper reporter secured an exclusive interview with the devil. The reporter was especially interested in the deceptive techniques around which the devil had built his reputation. What is the most useful tool you use on people? He asked. Is it dishonesty? Lust? Jealousy? No, no, no laughed the devil. The most useful weapon I use is apathy.
The next time you have a chance to read a paper or to pay attention carefully to radio or television news reports or what you receive via the social media, please give some careful attention to the number of "bad" events as opposed to the good and inspirational ones. The scale of right action is badly out of line in today's society. It is so very easy, is it not, to focus on all of the crimes and behavior which make us wonder what the word "human" really means. Cruelty and hate are the watchwords of almost every article we read or every broadcast we hear. "What is man, that thou are mindful of him?" questions the psalmist.
Our Ill. Brother Raymond Ellis in another of his brief but plentiful articles (The Lure of Opportunity), concludes his remarks with the following words: "How far shall we go and how much we shall accomplish is a question to be answered by each individual and depends upon our own INTELLIGENCE and PUSH. Let us, therefore, press onward with keen eyes, determined countenance, and steadfast heart. The day has dawned; the heights of victory glitter just before us in the sunlight; opportunity like a figure snatched from the Age of Chivalry, rides ahead, visor down. The road is marked. We have but to follow."
Yes, Freemasonry has the power to make positive change possible in our world which is in sore need of all that is good and true and caring. Each one of you has the power to make a place for the positive. If we do not do anything, then the Devil's apathy will reward us with what we justly deserve. May the force of the power to do good be with you always!
Our Brother Robbie Burns provides us with a few inspirational lines with which to bring this brief article to a close. In his poem "Farewell to the Brethren of St. James Lodge, Tarbolton" he writes in the third verse:
May freedom, harmony and love,
Unite you in the grand design,
Beneath th'Omniscient Eye above,
The glorious Architect Divine!
That you may keep th'erring line,
Still rising by the Plummet's Law,
Till order bright completely shine,
Shall be my pray'r–when far awy'.
Our Masonic fraternity has much to offer each one of us and we who have received more light are charged with the responsibility of keeping that light shining brightly for ourselves, for our world and for those who will follow in our footsteps. Apathy is a negative force only to be extinguished by that which is positive… id est, ourselves!
SO MOTE IT BE.