CLAUDIU IONESCU
talking to
Most Illustrious Imperial Potentate, Shrine International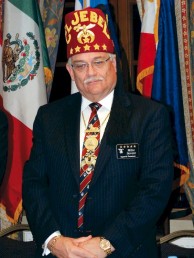 …I'm the Chairman of the Board of Directors for Shrine Hospitals.  The Board of Directors consists of the Imperial Divan, of which there's thirteen.
We're running 22 hospitals, almost 6000 employees, and it's just a regular business. United States, Mexico and Canada.
We also do the piece of the investments from an investment standpoint, in US dollars, we control almost seven to eight billion. And it's the investments that help fund a portion of that, as well as the donations.
So, Shriners Hospitals for Children is very large, very big business.
Then you have the fraternity side. I'm the President and CEO of Shriners International. With that title is the Imperial Potentate. Basically, you guide, as a fraternity, where we're headed to, you know, visiting the Temples, putting the word out, what are we accomplishing, either as a fraternity, hospitals, and other stuff. So that entails an almost full-time job of traveling from place to place, and that's one of the reasons why I'm here.
This is my first visit as an Imperial Potentate and the first that they've been a Temple here, in Europe.
In Shrine, Romania is ascribed to the EMIRAT Temple. Some time ago, you visited Romania. What is your opinion on what you saw in my country?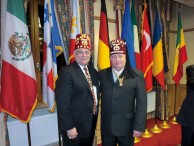 I think you're gonna grow, I think you're gonna get other people, finding the fun, as part of the Shrine. I think also you have, with a lot of your members, you have doctors and surgeons, people that are in the medical field, you can end up having some kind of a presence in an existing hospital that may help children right here.
Your future is only beginning, and it's probably going to be a bright future.
Imperial Sir Mike, do you think that the European mentality embraces – not the Shrinedom, that philanthropy like the Americans, because the European mentality is not the same like the American?
1872 to 1922, almost 50 years went by that we were a fraternity. Clearly, it was about the fun, it was about the brotherhood of the Shrine and you may have a similar growth pattern. People may want to join the Shrine because they want the brotherhood, the fraternity.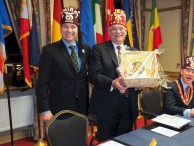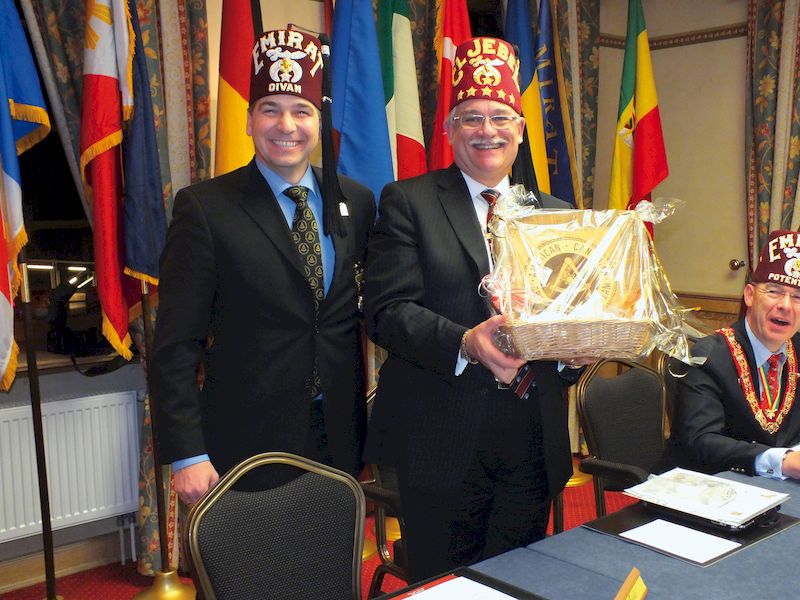 You maybe will find that the philanthropy part won't come until later. So that's how you may grow in Romania. Who's to know?
So it's a beginning. And it could be a few years down the road before the philanthropy comes in. In other words, you group as brothers in that country, then you want to do something good for children or whatever you may be decide down the road. You are going to write that history for this European area and for the countries contained in it. You are writing history today.
Imperial Sir Mike,please let us know your  Curriculum Vitae, masonic and profane.
My father was actually a mason before I was ever born, in the early fifties. He joined the Shrine and I was maybe ten years old and was around at scene parades, watching the motorcycles, that's what got me interesting in joining…
I didn't know whether I really wanted to be a mason and that other stuff, all I want to be is a Shriner riding motorcycles.
I became a mason at age 21. I later became a Shriner at age 22. And from that point on I did end up joining the motorcycles and compete in parades as a rider, in a motorcycle group there, in Denver, Colorado. But I really started all this as a DeMolay. I am membr of York Rite, I am 33rd degree in Scottish Rite.
So, personal life, I've always been involved in manufacturing. And my latest endeavor has been in the Titanium metals area. And we provide aircraft-quality Titanium to Boeing and Airbus. And Rolls Royce and Pratt & Whitney. They're both there. Basically, any of the aircraft-quality titanium that goes into that has to be under US inspection standards if they fly it in the US, so – hence all the Boeing and Airbus titanium that are flying out there, struts, wingspan, landing gears, all of that's our Titanium and most of their larger plants.
I am married. Patty is my wife. She has a wonderful program this year. She is supporting, she is helping in the nursing, and doctors for the burnt care.
Tell me, please, about the future of Shrinedom, globally speaking. Where do you see the future, because there's an economic crisis?
Well, this is not our first time in a crisis, whether it's US-driven or not, I'll just talk about the US because that's what I know best.
The US has faced similar economic times, and when you look at the late '20s and early '30s, a lot of our members couldn't even pay their dues, we had a lot of temples that were on the edge, they all survived and they grew. We actually grew to the largest we ever were in the year 1979. So from the middle '30s, when we were struggling, to 1979 was really a growth pattern.
What you could do is actually say, Are we going to be in a similar situation with the generation right now? Are they looking for a fellowship? For brotherhood? And are they looking to get back? I think the answer is probably yes.
We may be in an economic abyss right now, if you will, but I think, long term, what's our future? I think it's very good. One of the programs that we're trying to push this year is what's called the legacy program. I kind of explain to them like this, my dad brought me in, I'm bringing my son in, and that's really a family thing, but I think that as a legacy, I think all of us, if we have children, or people that we know, we can continue that process and that's how we can grow amongst ourselves.