STUART ROBINSON
Past Provincial Junior Grand Warden, United Grand Lodge of England
Chairman, Twickenham District Masonic Council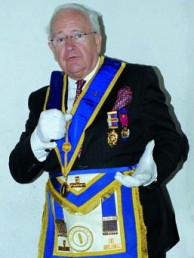 Romania had fascinated me for many years. Sadly those of us who have lived in other countries are well aware of the communist era and the Ceauşescu era.
Freemasonry has had a very strong renaissance since 1993 when it was re-established openly.
My dear friend Brother Claudiu Ionescu had informed me of the 10th anniversary of The Sarmizegetusa Lodge No. 111 in National Grand Lodge of Romania. This was to be held in Corvin's Castle in Hunedoara, right in the heart of Transylvania. Naturally I was interested. So, out came my map of Romania and I duly found Hunedoara. Research on the Internet soon informed me that Hunedoara is a depressed city, due to the demise of the steel production in the region. The population has halved and many people have had to adjust their lives and work as a result. Nevertheless the proud spirit of the Romanians from this area would become very apparent during my visit.
Hunedoara region can easily be compared with Ebbw Vale in South Wales and the other surrounding places. The rolling hills and green countryside with its scars from the quarrying and mining evidence the wealth of iron ore and coal which has been the root of the development of this steel industry. However a striking difference is the magnificent 15th century castle known as Corvin's Castle which was to be a major highpoint of my visit.
I got off the train – from Budapest – in Deva, a city near Hunedoara. I remembered that in my youth I had frequently visited the UK city of Chester, whose Roman name is also Deva, and wondered if my destination also had Roman origins. A "Deva" or "Devin" in Slavonic means "girl" or "maiden". The term Deva is often used in common parlance to refer to a somewhat special female both in the USA and UK. This did not really appear to have any Roman connection. A similar name exists in the Slovak Republic, being that of Devin Castle located at the confluence of the Danube and Great Morava rivers on former town of Devín which is now a suberb of Bratislava. The ancient Dacian word "dava" meant a "fortress", so I wondered if again there would be a Roman connection. The name can also be associated with a Roman Legion Lego ll Augusta transferred Deva from Castrum Deva, now Chester (Deva Victrix) in Britain.
Brother Claudiu and I met and had coffee in the lounge of the hotel to be joined by the hotel Manager who proved to be a Brother and member of the host Lodge later that day. We set off to look at the local countryside.
Life began to improve as I sipped my first taste of Romanian beer which proved to be the excellent Ursus blond beer. Known as the king of beer in Romania, it is produced in Cluj County and it was founded in 1878. It is a sharp, light-color, light-bodied beer, somewhere between Czech and German Pils.
In the vicinity of Hunedoara we visited a 7th century orthodox church in the village of Densuș. Hunedoara county is very similar terrain to South Wales. Here too, the industries of iron ore extraction and coal mining are evidenced by the forlorn former quarrying sites, and the closed semi derelict steel mills. Today both regions, although many kilometres apart, have suffered a similar demise from their former glory when steel was being produced and people were moving to the area because of the availability of work. I was very interested to learn that the steel for the world famous Eiffel Tower in Paris, France, was produced in the Hunedoara steel mills.
Our first meeting was to take place at 1800 that day so we returned to the hotel and prepared for it. Once ready we went through the streets of the city to the magnificent Corvin's Castle which is also known as Hunyard Castle due its close historic connection to the Hunyadi family.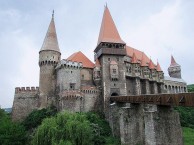 Huniad Castle was built by King Charles I of Hungary after his visit in Timisoara, in 1307. The King has decided to set up the residence here. The building, probably built by Italian builders, was finished in 1315 and in 1316 King was already established in the new castle, where he lived almost eight years. The last document signed by him was in Timisoara dated June 15, 1323. In 1409, the castle was given to John Hunyadi's father, Voyk, by Sigismundk King of Hungary as severance. The castle was restored between 1446 and 1453 by his son John Hunyadi. It was built mainly in Gothic but has Renaissance architectural elements. It features tall and strong defense towers, an interior yard and a drawbridge. Built over the site of an older fortification and on a rock above the small river Zlasti, the castle is a large and imposing building with tall and diversely colored roofs, towers and myriad windows and balconies adorned with stone carvings.
The castle has been destroyed by fire five times, and undergone many reconstructions during both its time when in the Austro Hungarian empire and latterly in Romania. It is the most important Gothic style secular building in Transylvania.
The current castle is the result of a fanciful restoration campaign undertaken after the last disastrous fire and many decades of total neglect. It has been noted that modern architects projected to it their own wistful interpretations of how a great Gothic castle should look.
Our driver and host parked the car and we walked up the steep cobbles and on to the draw bridge over what had obviously been a wide and deep moat.
After we arrived in the enclosed courtyard to meet many Brothers already in their regalia prior to climbing their two step fights of stone stairs up to the balcony corridor to the entrance to a magnificent high ceilinged hall in which the meeting was to take place.
Soon the officials of our host, R.L. Sarmizegetusa Nr. 111 Or. Deva, started to direct people into the hall.
Stewards formed an arch with flaming torches as in medieval times and with swords to form an arch of honour.
The Lodge members, visitors, all took their places. Then they welcomed the Master and his Wardens. Distinguished guests were announced and escorted to their seats. I remained just within the entrance watching this magnificent spectacle and concluded that all had been admitted.
Just as I was tempted to try and creep gently towards a seat near to where I was standing by the entrance, I heard my name announced as a visitor from the United Grand Lodge of England with great surprise and before I could think about creeping into the nearby seat I had planned occupy, I was escorted to a seat on the right hand side of the Worshipful Master.
Indeed this was a very special occasion as it was the 10th anniversary of the consecration of the R.L. Sarmizetusa Lodge Nr. 111.
The lodge was opened with great ceremony and dignity which reminded me of the opening of the United Grand Lodge of England.
Various visiting delegations from Lodges across Romania gave gifts to the Worshipful Master to mark this wonderful occasion.
I had not brought a gift from England or one of
the Lodges of which I am a member to mark this wonderful occasion of the 10th birthday of the Lodge.
When I was asked to approach the Worshipful Master I looked at the Masonic badge I wear which was presented to me in 2008 to mark the 40th year of my membership of Freemasonry and it was very clear to me what should be done.
I unpinned my special badge and repinned it on to the collar of the Worshipful Master R.L. Sarmizegetusa nr 111, entrusting him and the Lodge to keep it carefully for a further 30 years. It is then to be given to the first brother of the Lodge who completes 40 years service.
The enthusiasm of the Masons I witnessed at work that day, left me in no doubt that my 40 year service badge will be passed on to a Lodge member. I called my gift "Thirty Years to Come".
A wonderful meeting came to an end in the castle. All of the Brethren left and went to the hotel in which I was staying, to dine in Love and Harmony (as we say in England).
On Saturday morning 26th May 2012, I had the great pleasure of attending the Masonic symposium in which was held under Chairmanship of RW Bro. Adrian Stănciulescu, Deputy Grand Master of the National Grand Lodge of Romania.
I came away from the event with a very clear message that Brotherly Love, Respect and Tolerance are major objectives of Romanian Freemasonry.
After lunch in Hunedoara, I spent a little time resting to prepare for a joint celebration meeting in the Castle held by 4 Lodges in the region: Înfrățirea Neamului No. 101, Sarmizegetusa No. 111, Zamolxe No. 182 și Mistria No. 190.
This meeting was most enjoyable. Throughout both meetings the music emanating from the excellent sound system was most impressive. However a Brother stood up and in a most magnificent baritone voice sang. This Brother was no other than Octavian Vlaicu, who is a member of the Romanian National Opera in Timisoara. I was to enjoy the pleasure of his voice later that evening.
With similar dignity and ceremony the meeting closed. We all crossed the courtyard in the castle where earlier I noticed several sucking pigs being cooked, climbed the steep steps leading to the main dining hall.
An excellent meal was served complimented by enjoyable wines and wonderful Brotherly companionship. Then to the delight of all present, Bro Octavian Vlaicu entertained us in a variety of songs and arias. He was joined by a candidate for the lodge, tenor Bogdan Zahariea, who is also a member of the Romanian National Opera in Timișoara.
Transylvanian Romanian hospitality continued on the Sunday when I was driven up to the site of the Dacian civilisation at Sarmizegetusa. This impressive place of worship ancient really impressed on me the very well chosen name of R.L. Nr 111.
I journeyed to Timisoara on Monday to discover Masonic symbols on the tower of the cathedral there which evidence the activity of our Brethren when it was constructed.
Although I may not still be alive in thirty years time, I am very confident that some of the Brethren who were in Hunedoara will live to see my "Thirty Years to Come" badge pinned on the collar of a worthy recipient.