WBro JOHN BELTON
FPS, Lodge Hope of Kurrachee No. 337, Grand Lodge of Scotland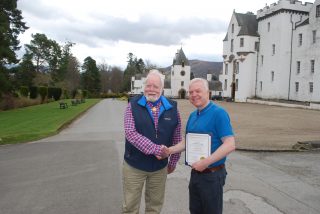 The world has been living in strange times, and the presentation of FPS Certificate and Jewel to Kenneth Jack delayed since it was awarded in 2019 had not been made because of covid restrictions. When I told the Secretary, Terry Tilton, that I had moved to Scotland I received an email – could I do the presentation – and the answer was a positive yes.
Kenneth lived around 60 miles north in Pitlochry, a town in the county of Perthshire; and just up the road is Blair Castle the home of the Dukes of Atholl. The Atholls, especially the 3rd, 4th, 6th and 8th Dukes were variously Grand Masters of the Grand Lodge of Scotland and the 3rd and 4th of the Antients Grand Lodge in England. What better place to make the presentation.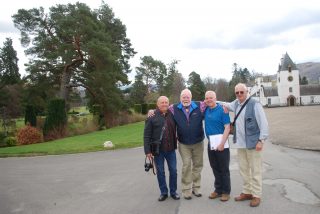 The occasion of a visit by two friends Bro Alan Turton from England and Bro Claudiu Ionescu from Romania provided the perfect occasion and we all agreed to meet for lunch at Blair Castle to make the presentation. Lunch lasted two hours while we talked all manner of masonic matters and I made a short address to Kenneth and presented him with his certificate and jewel.
This was a tourist venue so we dressed smart casual and we let the masonic context of the place speak for the event. But did take a formal picture in front of the castle. Afterwards we all went on a tour of the castle and that took a couple of hours. The hallway walls were decorated with swords, guns, and shields, and because we are in the highlands of Scotland one of the pastimes of the Atholls (especially the 4th Duke) was the stalking and shooting the stags on the estate. And the walls of the Great Hall.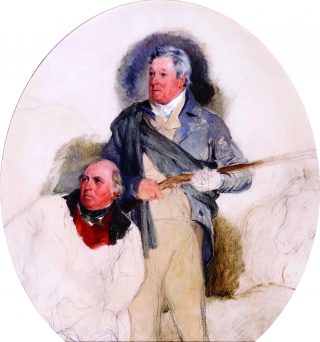 But he was also keen freemason and Grand Master of the Antients from 1775 to 1812 (with one gap). Of all the Grand Masters of England he is the one who to this day is still remembered with affection and respect – that surely must be mark of greatness.
Blair Castle feels as though it is part of the highlands. As one approaches the hills get taller and the forests closer to the road. The nearest village is Pitlochry. Blair Castle is just outside the village and has been the home of the Stewarts and Murray of Atholl families for 750 years. Originally it was a typical tower house but in the mid 18th century it was trans­formed into a very Scottish lairds "palace" that one can see today.
The nearest lodge is some miles down the road and is Dunkeld Lodge No.14 founded in 1734, and the Dukes of Atholl have traditionally been masters of "their" local lodge, and this demonstrated a strong masonic family connection.
1735, 1747‑1750 2nd Duke of Atholl
1750‑1754 3rd Duke of Atholl
1776‑1800 4th Duke of Atholl
1841‑1846 6th Duke of Atholl
1895‑1909 8th Duke of Atholl
Both the 3rd and 4th Dukes were variously Grand Masters in both England and Scotland
3rd Duke of Atholl
Antients GL 1771‑1774
GL of Scotland 1773‑1774
4th Duke of Atholl
Antients GL 1775‑1781 & 1791‑1813
GL of Scotland 1778‑1780