Cornel Enache
PM, Lodges Coroana lui Ștefan cel Mare No. 46 and Steaua Nordului No. 246, NGLR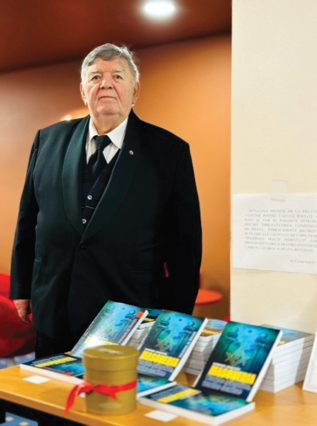 The first edition of the Masonic Spring School was held in Botoșani, 10-12 March 2023. Brethren from 20 cities and more than 30 lodges joined the event organised by Lodge Terra Dacorul 508. The dedicated members of this young Lodge managed to combine the beauty of the topic with the fraternal harmony, so desired and required in this period of real hardship through which the Romanian Masonic Order is passing.
Let's not forget that at the end of the 19th century and the beginning of the 20th century, the Orient of Botoșani had a rich Masonic life in the 6 Lodges, belonging to European GLs, which culminated with the appearance of the first masonic journal in Moldova in 1886.
Shortly after the rekindling of the lights, the first National Symposium of Masonic History was organized in ­Botoșani. Over time, XVI national editions were held, with numerous international participants.
This first edition of the Masonic Spring School was dedicated to the MASONIC CULTURE AND TRADITION, with a special tribute to the brilliant national poet Mihai Eminescu. Lectures with a rich symbolic, esoteric and spiritual content were presented. The participants visited, among others, the National ­Poetry Centre, Mihai Eminescu Memorial, the places of worship of the Eminovici families and their memorial house. Another moment appreciated by our guests was the visit of the Catholic-Orthodox church in ­Hilișeu-Horia, a village close to the Ukrainian border. This place of worship is unique in Europe in its way, by the happy combination of the two Christian religions in the same place, and by the rich Masonic symbolism of the interior decorations.
The festive board was a success and marked the end of the meeting. The farewell of brethren was touching, with the hope of meeting again next spring. The organizers intend to pay tribute to the unique musical personality of our brother George Enescu, for the next edition.