CONSTANTIN IANCU
Sovereign Grand Commander, Supreme Council of Ancient & Accepted Scottish Rite from Romania
Founding Grand Master, National Grand Lodge of Romania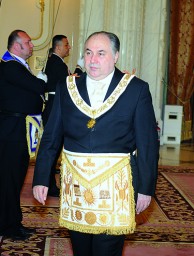 Masonic Forum is a construction raised in time, representing perfectly the Masonic spirit. A successful construction, which has won, issue after issue, more and more readers, dedicated to study and receptive to what it means to conduct research passionately, tenaciously and
with devotion. The articles obviously have a high quality – I am referring both to the Romanian authors and to the foreigners – and the body of images attentively selected for each issue have conferred on the Masonic Forum Magazine a distinct profile.
Being a bilingual magazine, Masonic Forum has opened the Gates of Knowledge also for the brethren in other countries, offering them the possibility of a better knowledge of Romanian Masonry, contributing in this way to its fame across the world. Balance, fundamental research, elegance – behold the line which Claudiu Ionescu has though up for Masonic Forum !
Masonic Forum appeared under lucky stars, an elite magazine destined for an elite.
The magazine has grown at once with Romanian Masonry and it has become, owing to its quality, the official magazine of our Masonry. That is the merit of Claudiu Ionescu, who, with exemplary dedication and with an extraordinary power of work, has made the magazine increase continuously its quality, becoming nowadays a true success.
Now, at its 50th issue, I wish that we meet again at the Jubilee!