CLAUDIU IONESCU
Past Master, FORUM Lodge No. 64 and AGORA Lodge No.175, Bucharest;
Founder & Director, MASONIC FORUM Magazine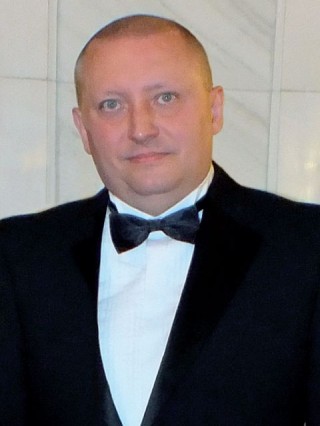 Recently, I have been ap­poin­ted – by decree – Assistant for Foreign Affairs of the Grand Master of Grand Lodge of Moldova, MW Bro. Iurie Sedlețchi. It is a special personal honour. At the same time, I consider this to be an appreciation of my work on the MASONIC FORUM magazine, a publication which enjoys the guarantee of some leading per­sonalities of world Masonry.
At the Annual Communi­cation of the Grand Lodge of Moldova I promised that, start­ing with this issue of Masonic Forum, I will con­sistently promote the Masonry of the Republic of Modova in the magazine. This I have begun to do by publishing interviews granted to me by two brethren, also leading intellectuals in Moldova: the Grand Master himself – Iurie Sedlețchi is a university professor and the rector of the European Studies University in Chișinău; then, the Member of the Academy Ion Dediu, one of the founding members of the Grand Lodge of Moldova.
Moreover, I have come to an agreement with the Grand Master Iurie Sedlețchi to co-edit, alongside the Grand Lodge of Moldova, their official magazine. This will be, like the Masonic Forum, a bilingual publication, written in both Romanian and English. I will therefore take this opportunity to thank my Romanian brethren who are supporting this media enterprise, whose names and companies will appear in the very first issue of the Masonic Message of Moldova.
Another interview published in this issue of the Forum is a conversation with the Ill. & MP Bro. Eberhard Desch, Sovereign Grand Commander of the AASR in Germany – a public personality, a subtle connoisseur of Masonry, initiated 43 years ago.
At the World Conference of the Grand Lodges, scheduled for May 2014, in Bucharest, RW Bro Thomas Jackson will announce his official retirement from the position of Secretary General. Last year, in Edinburgh, at the International Conference on History of Freemasonry, Tom told me that he wants to spend more time with his family. An honorary director of the Masonic Forum magazine, Tom is a unique man. A dedicated mason, and respected the world over, with a great capacity for understanding, analysis and synthesis, with a vast international experience, a subtle connoisseur of men and an observer that perceives ideas / messages placed beyond the words. He created this World Conference of the Regular Grand Lodges 15 years ago. These are 15 years of his life dedicated to Masonry at the highest level!
To the successor of Thomas Jackson falls an extremely difficult task. The survival of the World Conference across the years – obviously, the World Conference has not only friends! – depends exclusively on the intelligence of the new General Secretary. I hope, therefore, that the best candidate will be elected, but only time will tell whether universal Masonry can self-regulate in a functional manner. Being into an extremely fluid international context, Masonry is confronted – this year – by a great institutional challenge.
I quote from the last text published, in 1999, by Thomas Jackson as Grand Secretary of Grand Lodge of Pennsylvania: "I have heard in recent years, questions raised by those both inside and outside of the Craft concerning the relevancy of Freemasonry and the current world. Could there ever be a time when our philosophy would not be relevant? If we are slipping in influence, it is our fault, not the outside worlds. Maybe that world is not as receptive to us as it once was, but it does not influence our quality as an institution. That control was totally in our hands. Therefore, the destiny of Freemasonry is subject to the membership, as it always has been."