CHAIM HENRY GEHL
Past Grand Master, Grand Lodge of the State of Israel
Honorary Grand Master, National Grand Lodge of Romania
Honorary Director, MASONIC FORUM Magazine
IN MEMORIAM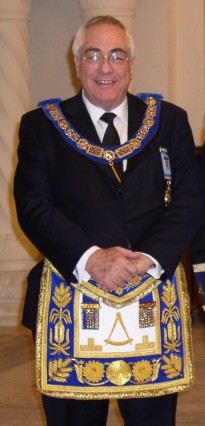 Chaim Henry Gehl was born in Tel Aviv, on June 4th 1943. He studied at Whittingham College a Jewish School in Brighton, England.
During his Israeli military service, he served in the technical secret division of the Israeli Air force, completing his studies in electronic engineering at Sheffield University, in England.
At the same time, he developed a special Research and Development system for British Rail, and worked as a Research and Development engineer, at Molins, London.
He completed his studies in computer hardware in Germany, and was employed as a senior electronic engineer at Sanyo Company, in Paris.
He also studied marketing and worked as marketing engineer, at Louis Newmark Ltd, in Croydon, England.
He was the creator and manager of the Galment control system company in London, which was representing and marketing international technical companies, for engineering appliances.
He later settled in Sweden, where he worked in Israeli diamonds marketing, as a member of the British jewelers association.
In 1977 he came back to Israel, learnt about raw material transformation, and started to work in the diamonds field. He served as general manager of Getter Computers, and since 1983, was the external advisor and active director of the Dubek Company.
Bro. Chaim Gehl was the son of Brother Martin Gehl, of blessed memory, who held the Office of Past Deputy Grand Master.
He was installed in Lodge Bezalel No 20, in 1982, and held the office of 25th W. Master, in 1987 and 1988.
He held many offices in the Grand Lodge of the State of Israel. He was elected as the Grand Master of this Grand Lodge, on the 29th of January 2002, and held this office till the 24th of January 2005. During his mandate, the Grand Lodge of the State of Israel held its 50th Anniversary Meeting. Chaim Henry Gehl was a 33rd Degree Brother, in the Supreme Council of the Scottish Rite of Ancient and Accepted Masons in Israel, and a Past First Grand Principal, in the Royal Grand Arch.
M. W. Bro. Chaim Henry Gehl passed away on August 16th 2014.
His wife, Ahuva, works as a Tourist Guide.