CLAUDIU IONESCU
talking to
Honorary Deputy Grand Master of American-Canadian Grand Lodge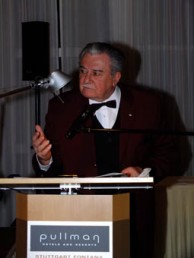 Right Worshipful Sir and Brother, congratulations on your 40th anniversary as organizer and Master of Ceremonies of Solomon Lodge's Anual George Washington Charity Ball… I have been told by one of the Past Grand Master of the ACGL that this event has become, without a doubt, the "Premier Social Event of the Grand Lodge". To what do you contribute your success?
Brother Claudiu, you refered to the George Washington Charity Ball as my success, as do many others, and I feel greatful for these remarkes, however, this popular event is without a doubt, a team effort, otherwise such a wonderful event woul be impossible to "get of the ground"!!
But now, returning to you original question of this being a continuing success over so many years.
There are many many reasons, but to mention just a few which immediatle come to mind, would be:
First and for most, since it's inception, the fantastic support I have had over the years from the Brothers of Solomon Lodge and their ladies, who play a big supporting role for us every year, and may I say that my lady Bianca has been my biggest support for all of these 40 years.
The support  we receive from our Grand Lodge Officers. Almost every Grand Master over the years, when possible, had excepted my invitation to attend the Ball and be our Guest of Honor, along with an Honored Guest from our Military Community, almost always a Flag Officer (a General or an Amiral) from Headquarters U.S. Open Command, coupled with the presentation of the Colors by our Shriners "Legion of Nonor" Color Guard Unit, lend a wonderful touch of Pomp&Ceremony to the evening, While we're on the subject of the Grand Lodge and the Military Com­munity, I would be remiss (and I'm aware that I way be treading on thin ice) if I didn't mention 3 people who have supported me, over and above the Call-of-Duty, for so many years namely:
M.W.Bro. Gerhard Severin, P.G.M. of ACGL;
M.W.Bro. Paul Curran, P.G.M. of ACGL;
Mrs. Walt Cogan, former Protocal Officer, Hg. U.S. Eucom, and still arranging for us, a guest speaker from the Headquarters.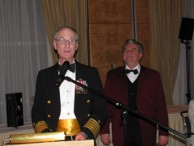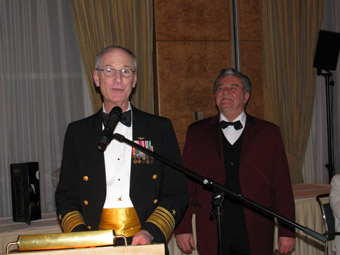 Then there is the Fraternal help and support of our German Sister Lodges in the Greater Stuttgart area. Also in recent years, we have been pleased to welcome a good number of Turkish Brothers and their Ladies, and of course a great number of Romanian Brothers and their Ladies, thanks in part to your efforts my brother Claudiu. Apropos Romanian Guest. I would like to say that, for me, the highlight of my 40 years was being able to receive and welcome His Royal Highness Prince Paul of Romania, who at the end of evening said to me "From one Paul to another, I have met a new friend Thank you Bro. Paul". Those remarks, along with the photos we had taken together and that he had autographed for me are something to be cherished.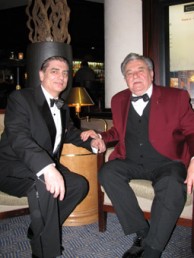 Last but not last; The whole ambient at the Hotel Pullman La Fontana, the beautiful Ballroom, the professionalism of the entire staff from the Front office, through the kitchen, to the Service Brigade, everything works to our satisfaction. Rounding it all off, we have very fortunate over the years to be able to book really great Dance Bands, for everyone's listening and dancing pleasure.
All of the Positive Factors have kept so many folks coming back each year and bringing new guest with them, which is so important in a transient military society that we have to deal with in our Lodges and in our community.
Well Bro. Claudiu, I suppose this was one heck of a long answer to your very short question, but it seems as though I can't express enough thanks to all whom have contributed to these 40 years of succes and sincerely hope that we will enjoy many many more successful George Washington Charity Balls in the future.
I look forward to continue helping as best I can. This event has become a Labor-of-Love for me over the years!!