ROBERT B. HEYAT
Past Grand Master, Grand Lodge of Washington DC
Past Grand Master, National Grand Lodge of Azerbaijan
Honorary Grand Master ad vitam, National Grand Lodge of Romania
I turned the interview granted by MW Brother and friend Robert Heyat into a story marked by some subtitles that I thought were essential. (Claudiu Ionescu)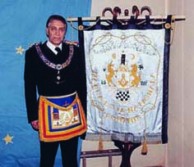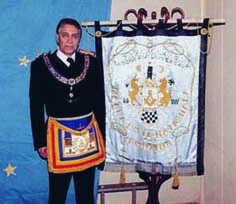 A life dedicated to Masonry
I became a Mason in Iran in 1966. So, my dear Claudiu, I am a Mason more older than your age. I became a Worshipful Master of the number 1 lodge of Iran – which was the Malawi, the first Persian-speaking lodge of Iran, in 1972. I was the commerce ambassador for Europe before the Revolution of Iran. When I was Ambassador in Vienna, every month I went to Tehran, to go to my Lodge meetings. When the revolution happened in Iran, I lost everything in Iran and I came to England for one year and then moved to America, to Los Angeles. You know, my life, although I have been very successful in business, in politics, and so on, but my life is Masonry. I just love Masonry. I have dedicated my life to Masonry, completely.
The Grand Lodge of Iran, established in 1969 in Tehran, existed in the country prior to the Islamic Revolution of 1979, hosted membership from various political figures, including former prime minister Jafar Sharif-Emami (who served as Grand Master). Since the Revolution, Freemasonry has been banned in Iran.
So in 1982, in Los Angeles, I decided to resurrect the Grand Lodge of Iran in exile. And I invited the 13 members of the Grand Lodge to my house in Los Angeles and we made a petition to the last Grand Master of Iran, who was also the Prime Minister of Iran, who was living in New York, so that he permits us to convene the Grand Lodge in exile again. And we did that. For two years, we did the Grand Lodge of Iran in New York. And then I signed – I organized a treaty between the Grand Lodge of Iran in Exile and the Grand Lodge of Massachusetts – to share the territory with the Grand Lodge of Iran in Exile.
So like the Grand Lodge of Iran has got the territory. And from that moment on – this is a historic thing, it never happened in the world – then the Grand Lodge of Iran could be recognized all over the world. Of course, for every year, two times per year, four Lodges worked in Boston, in Massachusetts. Grand Lodge of California also accorded the same right. Anyway, I started going to the Conference of the Grand Masters since 1982, which about – over 30 years.
And when I went to Washington D.C. in 1985, I said myself that Washington is the capital of the United States and the Grand Lodge of Washington D.C. should represent the Masonry of the United States, symbolically, because it is the capital. And so I started the universality movement in Washington and to make the Grand Lodge international. And that was the start of the universal and international activity of me personally, and through the Grand Lodge of Washington, all over the world. And we started to establish various Grand Lodges, especially after 1990, when Communism fell, and there were new opportunities to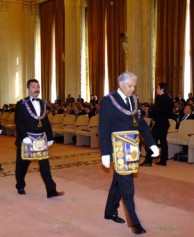 go into the Eastern countries. I worked very closely with GLNF, because they were very active, all over the world. And, in that sense, we established the Grand Lodge of Morocco, of course the Grand Lodge of Russia, resulted from a lodge in Paris, and then we went to Moscow and established two other lodges there, then that continued, I have been in very close r
elationship with Russians. Then I was very involved with the establishment of the Grand Lodge of Portugal, definitely the Grand Lodge of Armenia, I mean, each one of these Grand Lodges – it took many years to establish. For example, the last one, which is Azerbaijan, it has taken ten years to establish this Grand Lodge. I mean, for seven years, we had Lodges working, in Washington, in Moscow, in Turkey, and now it's six years in Azerbaijan. Grande Oriente d'Italia opened the Grand Lodge of San Marino. I've been also participated, as founder.
I have established the concept of international, mostly universal Freemasonry, in Washington, D.C. – and since 1985, I have established there, together with the leadership, of course, of Washington, D.C., twelve international Lodges, and speaking in twelve different languages, each, I know, speaking Farsi, Azari, Turkish, German, Filipino, Spanish, French, Italian, Scottish. Different context, you know, different tradition… And this has been a great joy, I am so proud of doing this, as part of my Masonic life. In 2007 I was elected Grand Master of the Grand Lodge of Washington DC. I was also the very first Grand Master (being the founder) of the Grand Lodge of Azerbaijan.
Disappointment in Freemasonry
My biggest disappointment in Masonry? I said this in the World Conference in Cartagena, in my speech and I said this also in the forum of the Grand Masters in Bucharest in 2014: unfortunately, Freemasonry has no influence in the world, because of no action. And this no action mostly comes from two things.
First: internal, personal egos, and infighting which prevents solidarity. Within each Grand Lodge and within the greater Freemasonry. They do not support each other, really. They are all involved in bureaucratic things, which are not reasonable. Let's say, for example, Azerbaijan, or Armenia – where Masonry is established in such difficult conditions. It is normal that every Grand Lodge in the world, especially the old and big Grand Lodges, to come to help the new born Grand Lodge, to promote that Grand Lodge and to support it; but they take a distance! What is this? Why? If our duty as Masons is to bring the light of Masonry into the dark places, you should receive support. But no support! It takes years with this silly thing called recognition. I mean, if a Grand Lodge is constituted in a Regular manner, under the basics of the principles, with the traditions, then why do you have to wait? Just imagine, in a country like Azerbaijan, with the religious dominance, Shiite, and the political background – the Soviet Communist background… This is a country where Masonry can make a difference! Masonry cannot make much of a difference in a country like England, or in the US, because a lot of the fundamentals and the principles of Freemasonry are in coordination with the principles which are done in the society. That is where Masonry should be helped and supported, and that is why I am disappointed in this respect.
Secondly: not having any action by the old Free­masonry. Freemasonry, within ourselves, is all the time a talk. Talking about philosophy. I have spent my life in philosophy and esotericism. But this is not something good for the society as a practical thing. The practical thing is to engage with the society. To engage, and not be afraid of labels. We do not need to be political. We do not need to take sides in politics.
But we have to engage in the real issues – which is the challenge for the young generation, for the future generations and for the present generation! If we do not engage nowadays the professionals, the young people… In each country, the young people is so busy just to run own lives, they have to make a big sacrifice just to come to the Lodge. Unless you can present them with something of real value, why should they make that sacrifice? That is our problem! We are not presenting them with something of value, so that they get motivated.
We say that we try to transfer what our ideals are, through individuals, to the society. But we are not doing that. We are not presenting that to the intellectuals, to the professionals, to the young generation, who are active in the society. And that is the second issue of my disappointment.
My profane life
Thanks God, I should say that I have been very successful in my business life also, but – and my political life. Since I was very young, I was a director of the National Iranian Oil Company for all the engineering division and the contracts division. And then I became the Commerce Ambassador for Europe, and at that time I was only 30 some years old. I think I was quite successful, but – well, if the revolution had not happened, nobody knows what would have been my future, in Iran.
I have two hobbies. One is reading and writing, the second is Masonry. The most important is Masonry. But as priorities, I think family and country are first, and then Freemasonry.
Of course, I have a lot of businesses. But I never mix businesses, self-interest, with Masonry. Never. That has been my principle in life. So these are completely separated and, thanks God, it has been going on very well.
I do not carry an Iranian passport – because of certain reasons. But what I am saying is this: you never lose your allegiance and your love for your mother country. You never lose that! No matter how long you are away from your mother country.
The United States provided me all the protection, all the services, and then my grandchildren were born here and they were raised here. There is another attachment. I feel American as anybody else; I also try to give my descendants the heritage of the Iranian tradition, the Persian tradition. I love both America and Iran. And I hope that the day does not come, when I have to choose.
About Romanian Freemasonry

It's, first of all, my honor and pleasure to be part of Romanian Freemasonry. I started coming to Romania in 1992, when the new Romanian Freemasonry was established here. At that time, there were different groups of freemasons. So my job was really to bring all these groups together and unify them. And so we make the real National Grand Lodge of Romania.
Of course, that took quite a long time and I had to come many times to Romania to do that. But, well, as you know, from 1992 to, probably, to 2000, we went through ups and downs in the Romanian Freemasonry. And we had some very difficult times. Actually, there was a time that there was a possibility that Romanian Freemasonry could lose its Regularity and its Charter to be withdrawn by which was given by, di Bernardo, at that time Grand Master of Grande Oriente d'Italia. My very close and dear friend, Most Worshipful Gustavo Raffi, told me that if something is not going to change in Romania, then we have to probably withdraw the Charter. We went through a lot. By the election of the Most Worshipful Eugen Ovidiu Chirovici the things had started to change. When you go through a transition from a previous status and attitudes and environment to a
new one, there are always problems. As I said, during the Grand Mastership of Most Worshipful Chirovici, everything had started to change. The National Grand Lodge of Romania is taking a very prominent role in Europe. As one of the founders of the National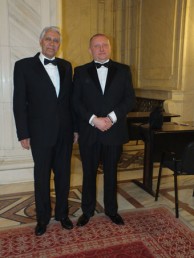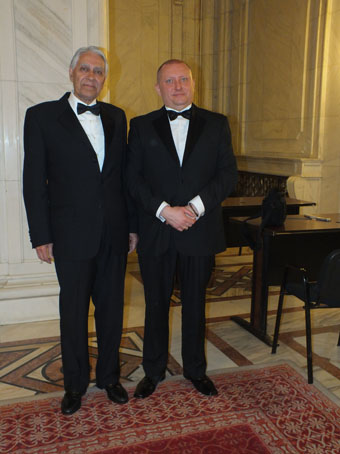 Grand Lodge of Romania, being also the very first Honorary Grand Master Ad Vitam of your Grand Lodge, I feel so proud to be a part of you.
I should congratulate the editor of the Masonic Forum for producing a very distinguished and exceptional publication in the Masonic world. First of all, the quality of the magazine itself, the print and everything, is so really high level, and also the articles. It is presented in such a beautiful way and, I think, it could have a big influence. What I am recommending is that the Masonic Forum needs to continue to be distributed to all the Grand Lodges. I personally think that is the best presentation and reflection of what is happening in the Romanian Freemasonry and I am really proud that such a publication is being done.