KEVIN THOMPSON
IPM, Lodge Hope of Kurrachee No. 337, Grand Lodge of Scotland
PM, Lodge Coupar o Fife No. 19, Grand Lodge of Scotland
PM, Lodge Zlodve Dunearn No. 400, Grand Lodge of Scotland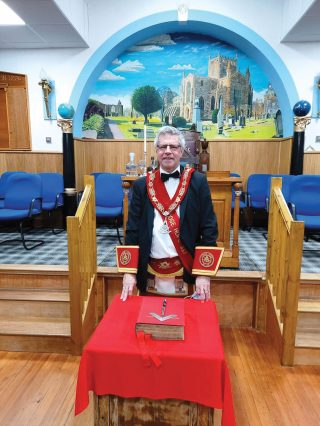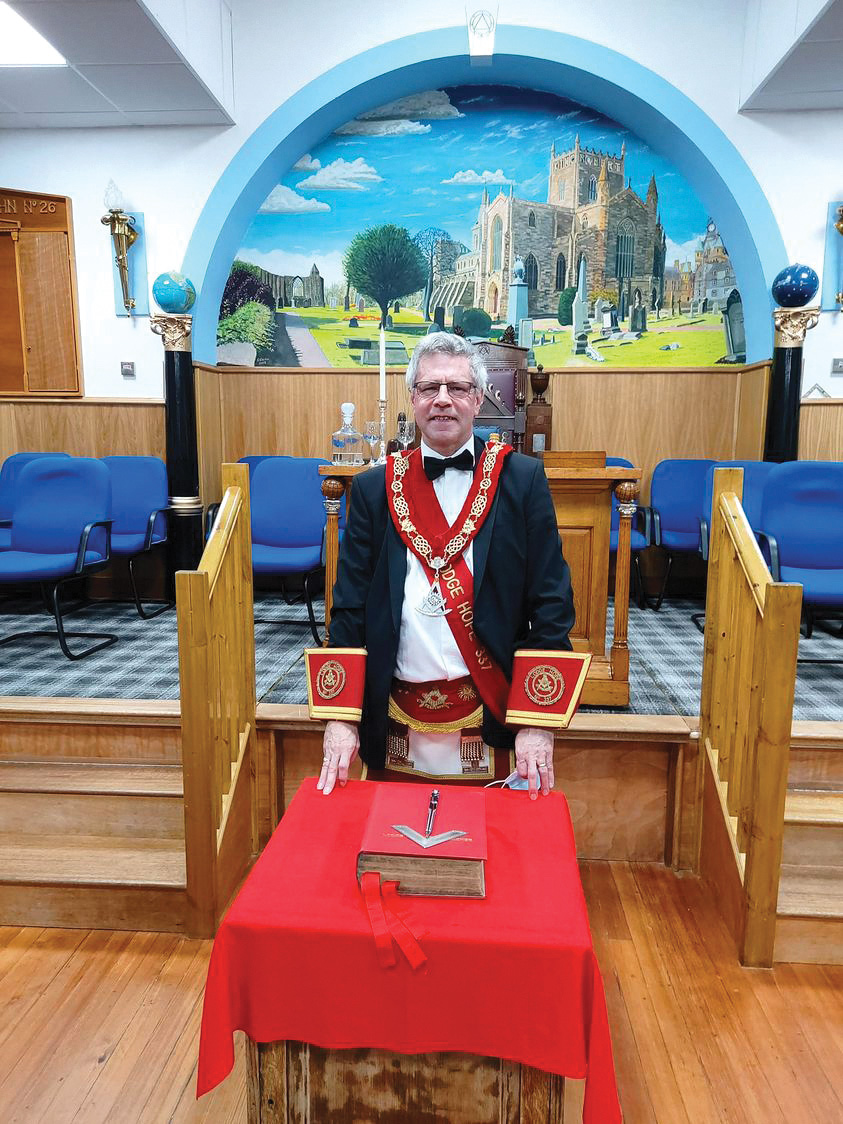 Had Burns not joined the Craft it is unlikely we would have heard of him! Much of the credit for bringing his and his works to public awareness must rest with his brethren. So not only is he hugely important to Scottish Freemasonry, the Craft was also very important to him.
One of his earliest possible mentions of masonic significance is in his own autobiographical song, Rantin' Rovin' Robin
There was a lad was born in Kyle, / But what'n a day, o' what'n a style, / I doubt it's hardly worth the while / To be sae nice wi' ­Robin.
Chorus
Robin was a rovin' Boy, / Rantin' rovin', rantin' rovin'; / Robin was a rovin' Boy,
Our monarch's hindmost year but ane / Was five-and-twenty days begun, / 'Twas then a blast o' Januar' Win' / Blew hansel in on Robin.
The Gossip keekit in his loof, / Quo' she, Wha lives will see the proof, / This waly boy will be na coof; / I think we'll ca' him Robin.
He'll hae misfortunes great and sma', / But aye a heart aboon them a'; / He'll be a credit till us a', / We'll a' be proud o' Robin.
But sure as three times three mak nine, / I see by ilka score and line, / This chap will dearly like our kin', / So leeze me on thee, Robin."
Guid faith quo' scho I doubt you Stir, / Ye'll gar the lasses lie aspar; / But twenty fauts ye may hae waur / So blessins on thee Robin.
Robert Burns was initiated an Entered Apprentice in Lodge St. David (now #133), Tarbolton on 4 July 1781, at the age of 22. The minute book records this short entry "Robert Burns in Lochly was entered an apprentice."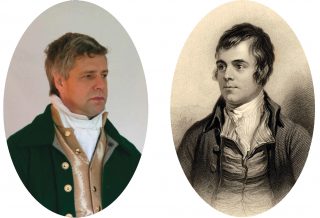 His initiation fee was 12s 6d. Like many other times in his life, Burns came into the Lodge amidst a controversy.
Originally, there had been only one Lodge in Tarbolton, chartered in 1771 from the Lodge Mother Kilwinning. In 1773, a group broke away from the Lodge, forming Lodge St. David No. 174, and the original ­became St. James Tarbolton Kilwinning No. 178, only to be reunited in 1781, 9 days before Burns's first degree.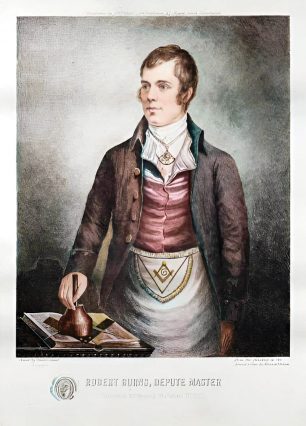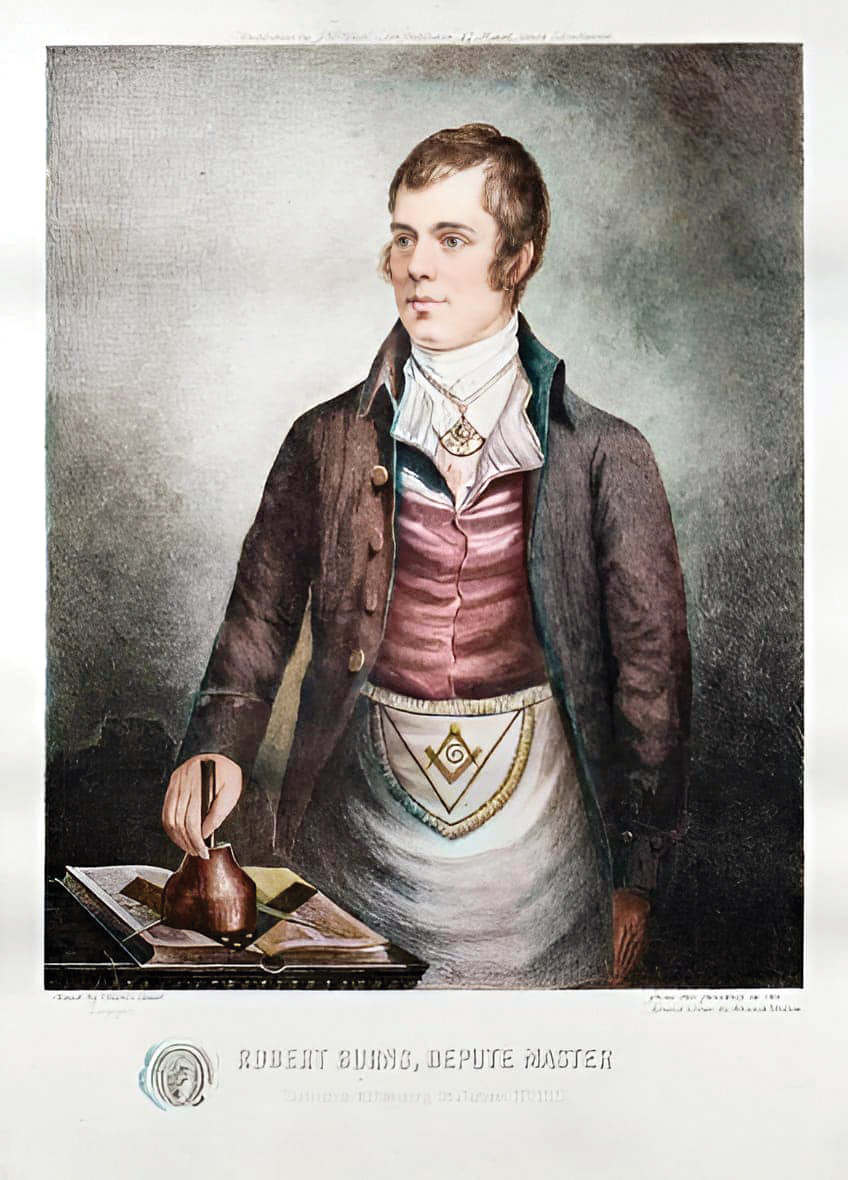 However, while St. James was clearly the older of the two lodges, St. David's name was used, and the seeds were sown for further dissension…
The minutes of July 4th – the first meeting thereafter of the united lodge – and October 1st 1781, as recorded in the St. David minute book are historic and are here stated in full:
"Sederunt October 1st 1781. Robt. Burns in Lochly was passed and raised. Henry Cowan being Master, James Humphrey being Senr. Warden and Alex Smith Junr. Do., Robt. Wodrow Secy. and Jas. Manson, Treasurer and John Tannock Taylor and others of the Brethren being present."
It should be noted that the first three Brethren mentioned were not elected office bearers and accordingly must have been acting for the evening. The elected Master, Joseph Norman, has signed the minute.
Burns has the distinction of being the only brother initiated by the combined Lodge, as the two Lodges split again shortly after.
Burns decided to stay with Lodge St. James, and on 27 July 1784, he was elected "Depute Master" of the Lodge at the tender age of 25 and only 3 "seasons" after his initiation.
Sir John Whitefoord (who was initiated into Freemasonry in Lodge Canongate ­Kilwinning on 12 February 1765.) was the Worshipful Master of the Lodge, but it was then customary for a Lodge to elect their Master from the landed gentry the man being little more than a figurehead and seldom attending the Lodge…the actual duties of the chair falling to his depute. Burns was therefore in fact the virtual master of Lodge St. James for a period of 4 years, with Sir John Whitefoord Baronet of Ballochmyle as actual Master rarely appearing. Sir John fell heir to the estate of Ballochmyle, but owing to his heavy losses as a shareholder in the Douglas, ­Heron and Company Bank disaster, he was forced to sell to the ­Alexander family in 1788.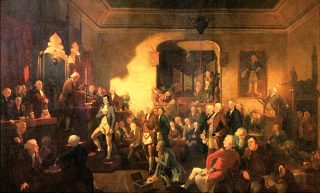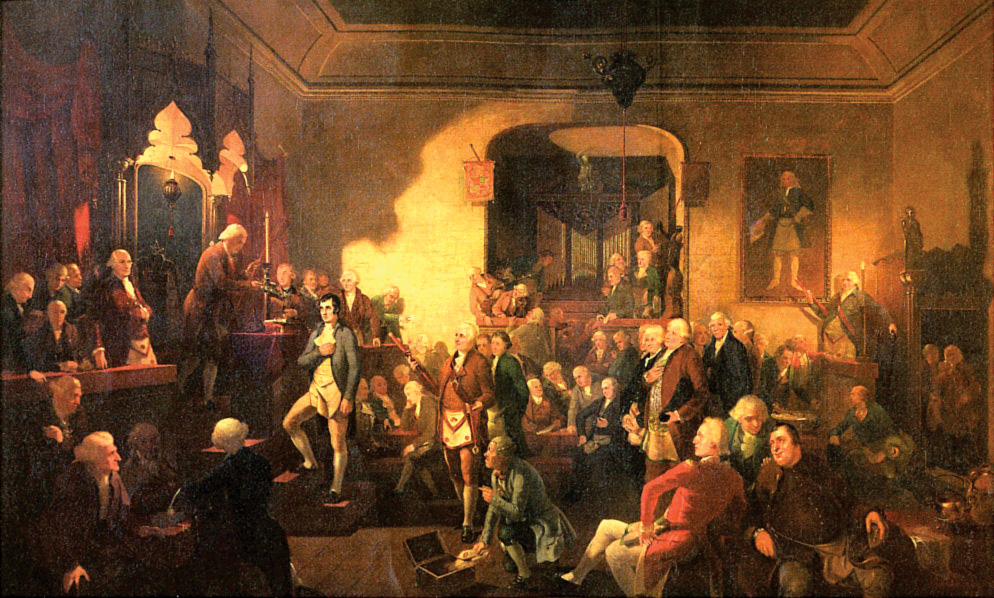 Burns wrote this for him:
The Catrine woods were yellow seen, / The flowers decay'd on Catrine lee, / Nae lav'rock sang on hillock green, / But nature sicken'd on the e'e.
Thro' faded groves Maria sang, (his daughter) / Hersel' in beauty's bloom the while; / And aye the wild-wood ehoes rang, / Fareweel the braes o' Ballochmyle!
Low in your wintry beds, ye flowers, / Again ye'll flourish fresh and fair; / Ye birdies dumb, in with'ring bowers, / Again ye'll charm the vocal air.
But here, alas! for me nae mair / Shall birdie charm, or floweret smile; / Fareweel the bonie banks of Ayr, / Fareweel, fareweel! sweet Ballochmyle!
It was Sir John that would advise Burns to sink any monies from his 2nd edition into a farm – ­Ellisland.
The Secretary of the Tarbolton Lodge from Aug 1782 – 1787 was John Wilson the local Schoolmaster – made famous in Death & Dr Hornbrook. Adding to schoolmasters pay by curing many ills…all untrained!
Ye ken Jock Hornbook i' the clachan? / Deil mak his king's-hood in a spleuchan! / He's grown sae weel acquaint wi' Buchan / And ither chaps, / The weans haud out their fingers laughin, / An' pouk my hips.
'See here's a scythe, an' there's a dart, / They hae pierc'd monie a gallant heart; / But Doctor Hornbook wi' his art / An' cursed skill, / Has made them baith no worth a fart, / Damn'd haet they'll kill!
Hugh Andrew Steward in Tarbolton Lodge was "Whipper-in" to Gen Montgomery and referred to in the Twa Dugs – the hugely significant poem used to open his Kilmarnock Edition – the publications that started it all.
Our whipper-in, wee, blastit wonner, / Poor, worthless elf, it eats a dinner, / Better than onie tenant‑man / His Honor has in a' the lan'.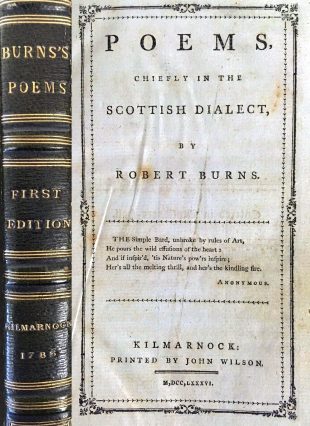 Burns was faithful to the Lodge, attending regularly and 3 minutes were in his own handwriting; 29 minutes were signed by him and also show when he changed his name; originally, his father spelled the last name "Burness"; before 1786, Robert spelled it the same way. On 1 March 1786, Robert's brother Gilbert received his 2nd and 3rd degrees; both Gilbert and Robert signed their last names as "Burns" this meeting took place in Burns own house!
On 27th March 1786 Gavin Hamilton introduced Burns to Lodge Loudon Kilwinning Newmilns, 51 – the first Lodge out of Tarbolton that Burns joined. Its warrant was from Mother Kilwinning and it did not join Grand Lodge until 1818.
The Lodge minute reads: Much to the satisfaction of the Lodge, Mr Robert Burns Mossgiel Mauchline was admitted as a member of this Lodge…
Hamilton was a close friend of Burns and had a big influence on him. He is mentioned in that satirical masterpiece – Holy Willie's Prayer, in which Burns pokes fun at the hypocrisy of the elders.
Lord, mind Gau'n Hamilton's deserts: / He drinks, an' swears, an' plays at cartes, / Yet has sae monie takin arts / Wi' great and sma', / Frae God's ain Priest the peoples hearts / He steals awa.
1786 was not a happy year for Robert financially or emotionally. He was clearly in love with Jean Armour but faced the wrath of her father due to her pregnancy and despite marrying her not being "good enough".
Jean (who later gives birth to his twins) is torn from him by her father and Burns had sought comfort with Mary Campbell (the famous "Highland Mary"), who died later that year from Typhus. Burns, in grief over the loss of two women, as well as facing child support payments for Jean's unborn children, decided to flee to Jamaica to avoid further grief and Jean's angry father (and Burns' Masonic brother) James Armour.
It seems says that Burns recited his "Farewell to the Brethren of St. James Lodge, Tarbolton" on the night of 23rd June, at the stated meeting of the Lodge, in anticipation of his voyage to the West Indies:
"Guidnight, and joy be wi' you a'."
ADIEU! a heart-warm fond adieu; / Dear brothers of the mystic tie! / Ye favourèd, enlighten'd few, / Companions of my social joy; / Tho' I to foreign lands must hie, / Pursuing Fortune's slidd'ry ba'; / With melting heart, and brimful eye, / I'll mind you still, tho' far awa.
Oft have I met your social band, / And spent the cheerful, festive night; / Oft, honour'd with supreme command, / Presided o'er the sons of light: / And by that hieroglyphic bright, / Which none but Craftsmen ever saw / Strong Mem'ry on my heart shall write / Those happy scenes, when far awa.
May Freedom, Harmony, and Love, / Unite you in the grand Design, / Beneath th' Omniscient Eye above, / The glorious Architect Divine, That you may keep th' unerring line, / Still rising by the plummet's law, / Till Order bright completely shine, / Shall be my pray'r when far awa.
And you, farewell! whose merits claim / Justly that highest badge to wear: / Heav'n bless your honour'd noble name, / To Masonry and Scotia dear! / A last request permit me here,— / When yearly ye assemble a', / One round, I ask it with a tear, / To him, the Bard that's far awa.
Rarely heard but truly one of Burns' best including much imagery of interest to the freemason.
However, in an attempt to raise funds for the trip and encouraged by Hamilton and others, Burns succeeds in getting his work brought to public attention.
He soon decides to stay in Scotland when in July 1786 his Kilmarnock Edition is published, by another mason, John Wilson. (Initiated into Lodge St. John, 22, Kilmarnock in April 1784). When he published his Kilmarnock edition of poems, many Brethren of St. John's Lodge, Kilmarnock, subscribed to a copy. Many subscriptions for the poems being procured by Gavin Hamilton and other influential friends.
On 26th October 1786: he was made an honorary member of Lodge Kilmarnock Kilwinning St. John, and wrote "Masonic Song" in honour of the Lodge and its Right Worshipful Master, Major 'Willie' Parker. Where the minute reads:
Robert Burns, poet from Mauchline, a member of St. James Tarbolton was made an honorary member of this Lodge, he 1st Lodge to call him poet.
Masonic Song
Ye sons of old Killie, assembled by Willie / To follow the noble vocation, / Your thrifty old mother has scarce such another / To sit in that honoured station! / I've little to say, but only to pray / (As praying's the ton of your fashion). / A prayer from the Muse you well may excuse
('Tis seldom her favourite passion):- / ' Ye Powers who preside o'er the wind and the tide, / Who marked each element's border, / Who formed this frame with beneficial aim, / Whose sovereign statue is order, / Within this dear mansion my wayward Contention / Or withered Envy ne'er enter! / May secrecy round be the mystical bound, / And brotherly Love be the centre!'
In February 1787, Burns was made the Poet Laureate of Lodge Canongate Kilwinning No. 2, Edinburgh after being introduced by the Hon Henry Erskine – the famous advocate – the minute book states: "The Right Worshipful Master, having observed that Brother Burns was present in the Lodge, who I well known as a great poetic writer, and for a late publication of his works, which have been universally commended, submitted that he should be assumed a [honorary] member of this lodge, which was unanimously agreed to, and he was assumed accordingly.
This Lodge has one of the oldest Lodge rooms in the world and has lasted over 300 years. In the chapel of the Lodge is an old organ built in 1754 – possibly the only instrument in existence that played Burns songs in his presence!
In summary, Burns was an enthusiastic Mason and served the Craft well in a variety of offices especially Senior Warden and Depute Master (in effect running a Lodge for 4 years) but in return the Craft was to have a huge influence on the life and subsequent success of Burns as our Bard. Not only the enjoyment and companionship he got from it but the contacts he gained and many poetic influences and subjects he found in its ranks.
When he joined the Craft, Robert Burns was for the most part unknown and somewhat unpolished! He had not known the benefits of a higher education but through Freemasonry was able to mix with those far higher on the social scale than he himself, many of whom recognised his talents and aided his rise. He knew the part that the Craft played in his life and wherever he went he made it important to immediately identify himself to the local Lodge. With VERY few exceptions all his patrons and aquaintances were members of the Craft.
Burns enjoyed the convivialty and reflects this in a verse he adds to one of his songs, whilst in a lodge in 1782.
No Churchman Am I
Then fill up a bumper and make it o'erflow / And Honours Masonic prepare for to throw / May every true brother of the compass and square / Have a big-belly'd bottle when harass'd with care.